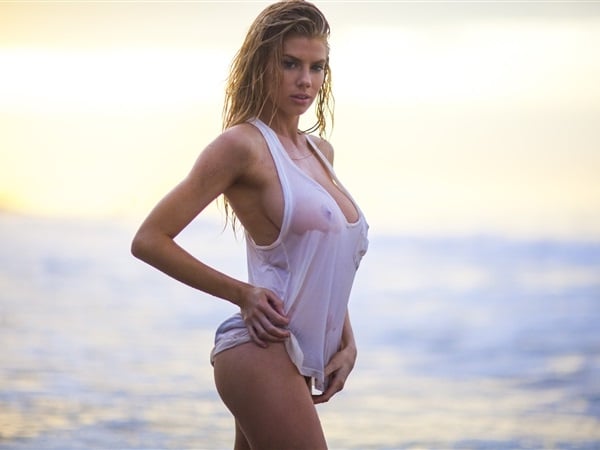 ---
Model Charlotte McKinney shows off her bulbous boobies in a skimpy bikini top and a completely see through wet t-shirt in the photos below.
Charlotte has made a career for herself off of her marketing team claiming that she is "the next Kate Upton"… Which is of course just another way of saying that Charlotte is a busty blonde whore from Florida who is going to land some rich athlete then gain 50lbs. So it is not at all surprising to see Charlotte paying homage to Kate by exposing her titty in this wet t-shirt just as Kate famously did (here and here).
Of course unlike Charlotte, Kate Upton actually has an attractive face, so it may take Charlotte a bit longer to find her meal ticket. But let us pray to Allah that Charlotte cashes in soon so she can stop this incessant sluttery, for the sight of her immodestly large mammaries has caused lecherous djinns to infect my loins and now my tunic is pitching a great tent as if it were housing a whole caravan of Muslim traders out in the desert.