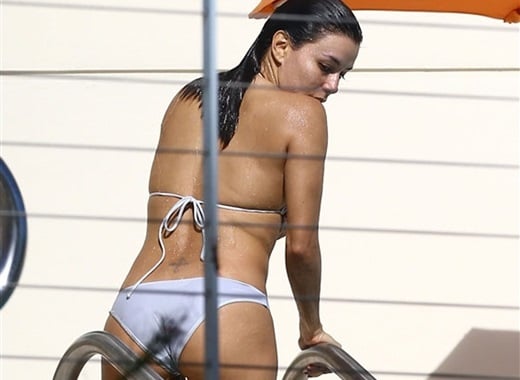 ---
"Desperate Housewives" star Eva Longoria shows off her third world nipples and disgusting cellulite ridden butt in a clingy wet bikini through the fence at the US-Mexico border in the photos below.
These Eva Longoria bikini photos are a clear sign that the US needs to build a giant wall on the border with Mexico, because a simple fence just isn't cutting it. For Mexican whores like Eva Longoria can still prostitute their primitive Aztec bodies through a fence, but a wall will shield border town residents in the US from these sorts of ghastly sights.
Of course giant fans should be installed at the tops of the wall to blow back the stink emanating from Eva Longoria and her fellow amigas' rotten lady chalupas, as well as their noxious refried bean farts. However, this is only a temporary solution and the problem of Mexico will not be solved fully until us mighty Muslims ride through on our war camels, slaughtering the people, and salting the earth so that nothing will again live in this most foul land for at least the next 100 years.