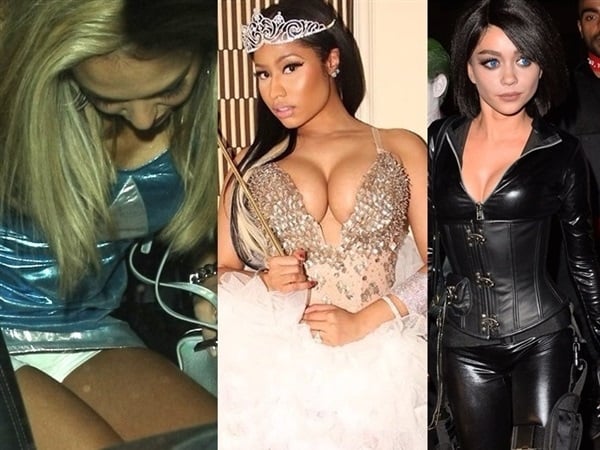 ---
Rather than making multiple posts denouncing the heathen celebrity whores for their blasphemous Halloween costumes this year, I thought it would be better to simply verbally lapidate the most egregious offenders (Jessica Alba, Nicki Minaj, and Sarah Hyland) all in one article.
First up we have the dried-up old skank Jessica Alba who simply threw on a blonde wig and a short dress, and went out as a sloppy drunk blonde whore this Halloween. While Jessica's costume certainly lacks in imagination (as most nights she is a sloppy drunk brunette whore) she does get some credit for her execution of this character, as she even performs the upskirt panties flash while stumbling into her cab at the end of the night.
Next up we have abid rapper Nicki Minaj who tried to portray herself as dainty and feminine while dressed as a big tittied fairy this Halloween. Nicki can have plastic surgeons staple all the watermelons in the world to her chest and ass, there is still absolutely nothing feminine or ladylike about her she-boon appearance. In fact, next year Nicki should try dressing as something more in her wheelhouse like a slutty gorilla, orangutan, chimp, or baboon… really any simian would work for her.
Finally we have "Modern Family" star Sarah Hyland who displayed her unbelievable hubris by dressing up as Kate Beckinsale's character from "Underworld". For Sarah Hyland to think that she has the face and body to imitate Kate Beckinsale in her prime just goes to show how completely delusional a Hollywood starlet can be. Next year Sarah should try dressing up as something more suitable to her looks like a goomba from Super Mario Bros. or an Olsen twin.