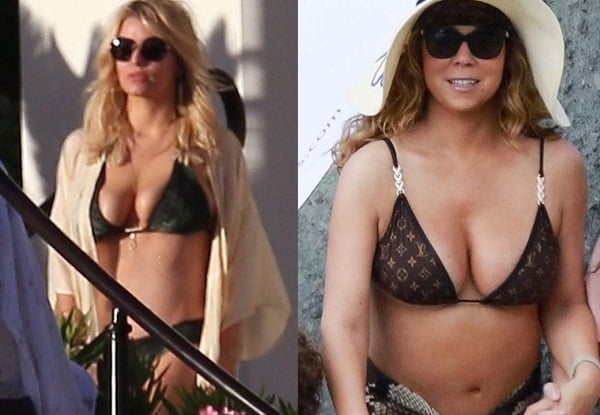 ---
Washed-up pop divas Jessica Simpson and Mariah Carey show off their busty old lady boobies in bikinis while on vacation in St. Barts in the photos below.
First up we have Jessica Simpson brazenly flaunting her flabby mom thighs, and sad sagging breast meat in a bikini. In the civilized Muslim world when women get as decrepit looking as Jessica in these bikini pics, we do the humane thing and put them down. As surely Jessica Simpson no longer serves a useful purpose, for even if there is some milk still left in her once gloriously bulbous but now completely deflated tit sacks it has almost certainly spoiled.
Next up we have mudshark songstress Mariah Carey who also displays her big ol' mom boobs in a bikini. Clearly Mariah has had a tummy tuck, for her stomach looks fat yet oddly plastic like it belongs to a mannequin at a Lane Bryant… plus it is missing all the menthol cigarette burns, shank wounds, and back-alley abortion scars that one would expect from Mariah's younger years spent "dating" dirt skin musicians.