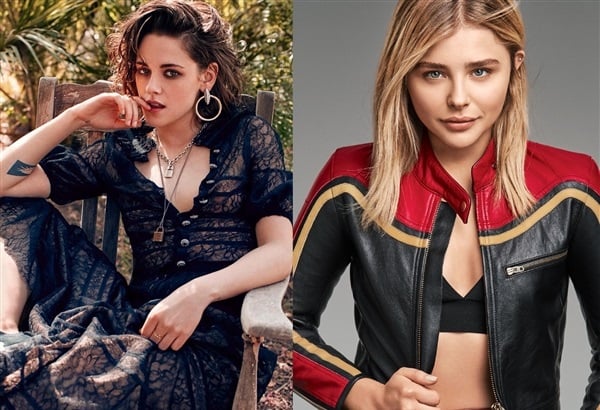 ---
Androgynous celebrity sluts Kristen Stewart and Chloe Grace Moretz take a break from sticking it to the patriarchy with their gender fluidity to crossdress as real girls in the photos below.
First up we have Kristen Stewart who not only wears something that resembles a dress in these photos from the new issue of Marie Claire, but she also shows a bit of her nipple as well. Of course despite de-butching herself in these pics, the pussy juice of her French singer girlfriend Soko can still be seen glistening off of Kristen's lips.
Next up we have the bushy eyebrow hermaphrodite Chloe Grace Moretz, who tucks back and tapes down her ball sack for the leather clad photos below from the new issue of Glamour magazine. Unfortunately for Chloe her broad shoulders and tiny titties do her no favors as she tries to pass as a real woman in these pics. Perhaps it is time that Chloe undergo hormone replacement therapy and fully commit to a gender… whichever one that may be because clearly she could go either way.