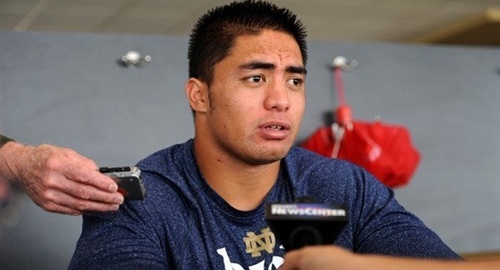 ---
Star Notre Dame linebacker Manti Te'o is going to withdraw his name from the NFL draft, and will instead pursue a career in Hollywood according to sources.
Of course the big news story in the sports world is that Manti Te'o was involved in a hoax to fake the death of an imaginary girlfriend named Lennay Kekua. Not only did Lennay Kekua not die of leukemia as Te'o claimed to gain sympathy and much needed attention for his Heisman campaign, but she never even existed in the first place.
Now Manti Te'o has apparently decided to use his talents in deceit and closeted homosexuality were they are most appreciated… heathen Hollywood.
Video of Manti Te'o talking about his fake dead girlfriend to ESPN
Manti Te'o is already receiving acclaim in the acting world for this incredible fake dead girlfriend performance. The talk around Hollywood is that the Academy will be adding a late nomination to the "Best Actor" category for Manti Te'o, and that he is now the runaway favorite to win the Oscar.