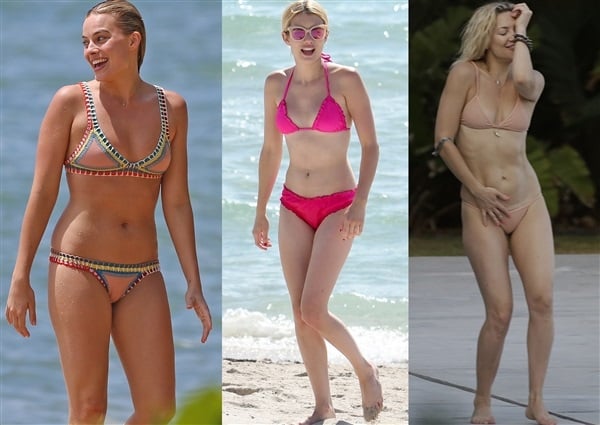 ---
Actresses Margot Robbie, Emma Roberts, and Kate Hudson all prostitute their shameful nearly nude female bodies in bikinis in the photos below.
First up we have "Suicide Squad" star Margot Robbie who was photographed frolicking in the waves while flaunting her frumpy body at the beach. It is just a shame that this beach was not located in Nice in the south of France, for Margot would certainly look better if she were laying flattened on the side of the road after being hit by the righteous Muslim "suicide squad" that struck last night.
Next up we have Emma Roberts who shows off her taut androgynous body in a hot pink bikini in the photos below. What is the point of having a pleasingly boyish frame if Emma is going to wear such garish girlie colors, and ruin any hope of us pious Muslims imagining that she is a bacha bazi (dancing boy)?
Finally we have old washed-up whore Kate Hudson, who despite her advanced age displays her remarkably tight and round ass in a thong bikini while dancing around drugged out of her mind.