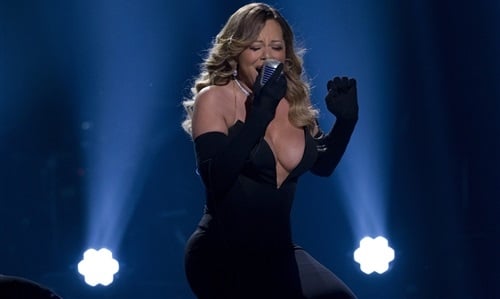 ---
Mariah Carey shows off her massive cleavage in the photos below from the 2014 BET Honors in Washington DC.
I don't know who BET was honoring at this event (probably Colonel Sanders like they do every year), but they should have been honoring the craftsman who made the piano Mariah Carey is sitting on or the Asian kid that made the dress that is valiantly struggling to contain her bulbous breasts.
It is hard to say what is a more impressive feat of engineering, that the piano can sustain 250lbs of whore riving around on top of it, or that the dress restrains the massive blob stuffed inside of it.
If I had to choose one I'd lean towards the dress, for I'd rather see that piano collapse and Mariah Carey bust her ass then her doughy frame bust out of that dress.