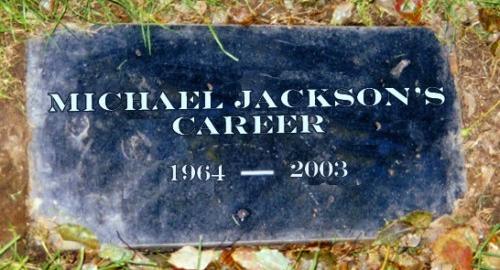 ---
Just moments ago Michael Jackson was laid to rest at Forest Lawn Memorial Park in Hollywood Hills. His casket was buried just a few feet away from the remains of his long-dead career.
Jackson's career, which had been a major part of the singer's life since 1964, passed away in 2003 after a prolonged 10-year bout with media saturation followed by cultural irrelevance.
"We all loved that career so much, and we were devastated when it died" said Jackson family patriarch Joe Jackson. "Michael's death has reopened a lot of old, painful memories."
As the family began to reminisce about the lucrative times they spent with Jackson's career, brother Tito Jackson tried to point out that it was "Michael's day." His comments drew a cold response from family members, and a sharp rebuff from his father Joe.
"Boy, quit fool'n and get a switch," said an irritated Joe Jackson, as he motioned his son toward a nearby tree. Without speaking, Tito pulled a small branch from the tree and handed it to his father who began to beat him about the backside.
The family is expected to attend a larger memorial service at the Staples Center in Los Angeles this afternoon.