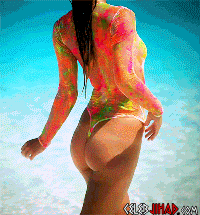 ---
Victoria's Secret super model Nina Agdal prostitutes her tight Danish ass in a thong swimsuit in the GIF above.
Like many virile Muslim men I've had my eye on Nina Agdal for a while now to determine if she is worthy of the tremendous honor of serving as one of my concubines. However, after seeing the Nina Agdal thong GIF above I was still undecided about what to do with her… that is until I purchased the new book from Bjarke Johansen titled "100 Great Danes", mistakenly thinking it was a book about large dogs.
Imagine my chagrin and outrage when I flipped through the book only to see page after page of naked long-limbed Scandinavian women, along with the nude photos of Nina Agdal below. Needless to say Nina Agdal jumped from my "possible concubine" list to the "definitely lapidate" list rather quickly.