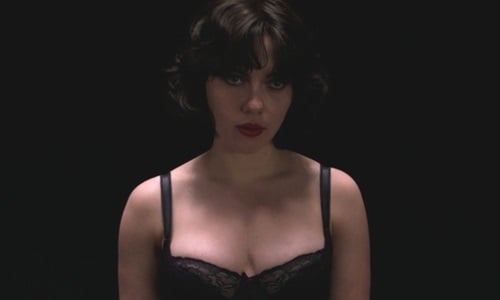 ---
Scarlett Johansson appears naked in multiple scenes in her new movie "Under The Skin".
In the film Scarlett Johansson plays an alien seductress who kills hitchhikers in Scotland… I know, I know you've heard that one before. When is Hollywood going to come up with something new!
Anyway in the scene below a fully nude Scarlett Johansson strips an unconscious Lynsey Taylor Mackay naked and then puts on her clothes. Of course this video is "cam quality", but unfortunately you can still make out some of Scarlett's bare sex organs
In an even crappier quality scene from "Under The Skin", Scarlett slowly walks naked in an entirely black room in the GIF below.
I've seen clearer videos of Big Foot and Loch Ness Monster. The director must have smeared Vaseline all over the lens on accident while lubing up to shoot this scene.