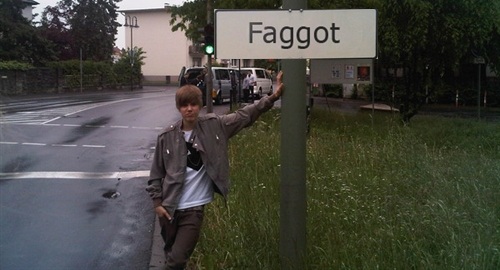 ---
Praise be to Allah today is a glorious day for Celeb Jihad! We have just received video confirmation that our war with Justin Bieber's fans continues. In fact it is escalating quite quickly.
As the prophecy foretold, the end of Western civilization and the triumph of Islam will begin by an act of violence by a transsexual teen pop star. Many elder clerics believe that Justin Bieber is that pop star the prophecy foretold about.
A few weeks ago, Justin Bieber's fans released a video threatening all those who oppose their master. We were ready to meet the challenge with the tip of saif, and finally see the blood of the infidels run red in the streets.
However, we were never attacked and we feared that Justin Bieber's fans were disheartened by the daunting task of having to face the armies of Allah. Thankfully that was not the case, and Justin Bieber's fans released a new video reasserting their intentions to begin a war.
This time the sexually ambiguous tween Justin Bieber fan brings along a possibly male friend to intro the video, before making her/his appearance sans a shirt in an effort to either intimidate or seduce us. See for yourself the war mongering of these Justin Bieber fans in the video below.
By the grace of Allah we will triumph over the forces of Justin Bieber, and bring the West under the control of Islam once and for all. Allahu Akbar!